Cappadocia is a unique and enchanting destination that offers visitors a chance to step back in time and explore the natural beauty and rich history of this ancient land. Cappadocia is a place like no other. Visitors can take hot air balloon rides to see the region from above, hike through the scenic valleys, or visit the many historic sites and monuments that dot the landscape. Whether you're a history buff, an adventurer, or simply looking for a one-of-a-kind travel experience, Cappadocia is a must-see destination. Don't miss the opportunity to explore this magical and mystical place.
Cappadocia, located in Central Anatolia, Turkey, is an otherworldly destination that will leave you in awe with its unique landscape, rich history and culture, and abundant outdoor activities. This region is famous for its fairy chimneys, cave dwellings, and underground cities formed by volcanic eruptions and erosion. Cappadocia is a perfect place for history buffs, adventure seekers, and nature lovers, but it's also a place of many surprises. To make the most of your visit, planning ahead and knowing what to expect is important. In this article, we'll provide you with all the information you need to know before you plan your trip to Cappadocia. From the best time to visit to what to pack and the best things to see and do, we've got you covered
Where is Cappadocia in Turkey?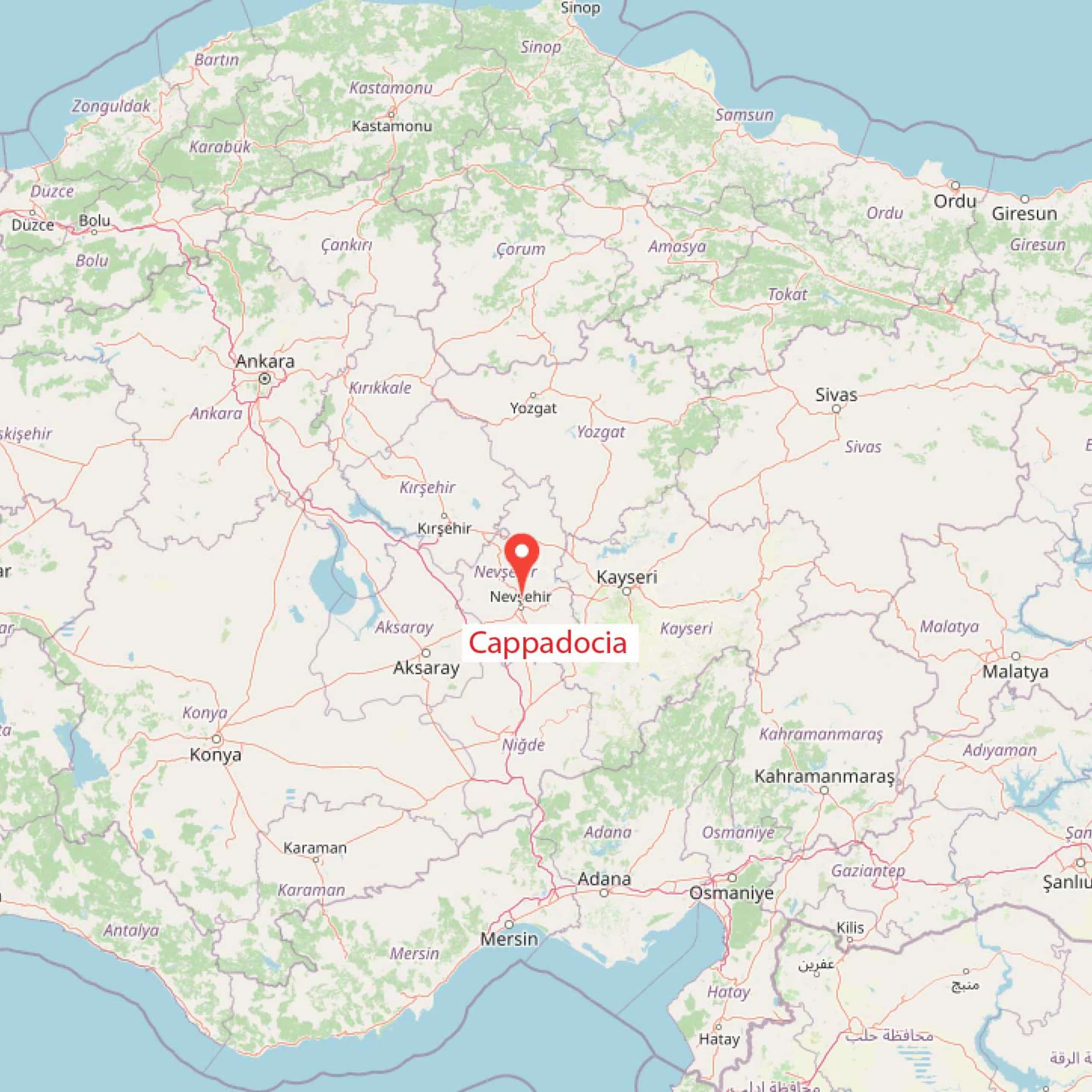 Cappadocia is located in the eastern part of the Central Anatolia Region and is situated between the cities of Nevsehir, Aksaray, Nigde, and Kayseri. Cappadocia is easily accessible by plane, with flights available to the nearby cities of Kayseri and Nevsehir or by car or bus from major cities such as Ankara and Istanbul. The region is also popular for hot air balloon rides and hiking, offering visitors a unique opportunity to explore the unique landscape from above and on foot.
Map of Cappadocia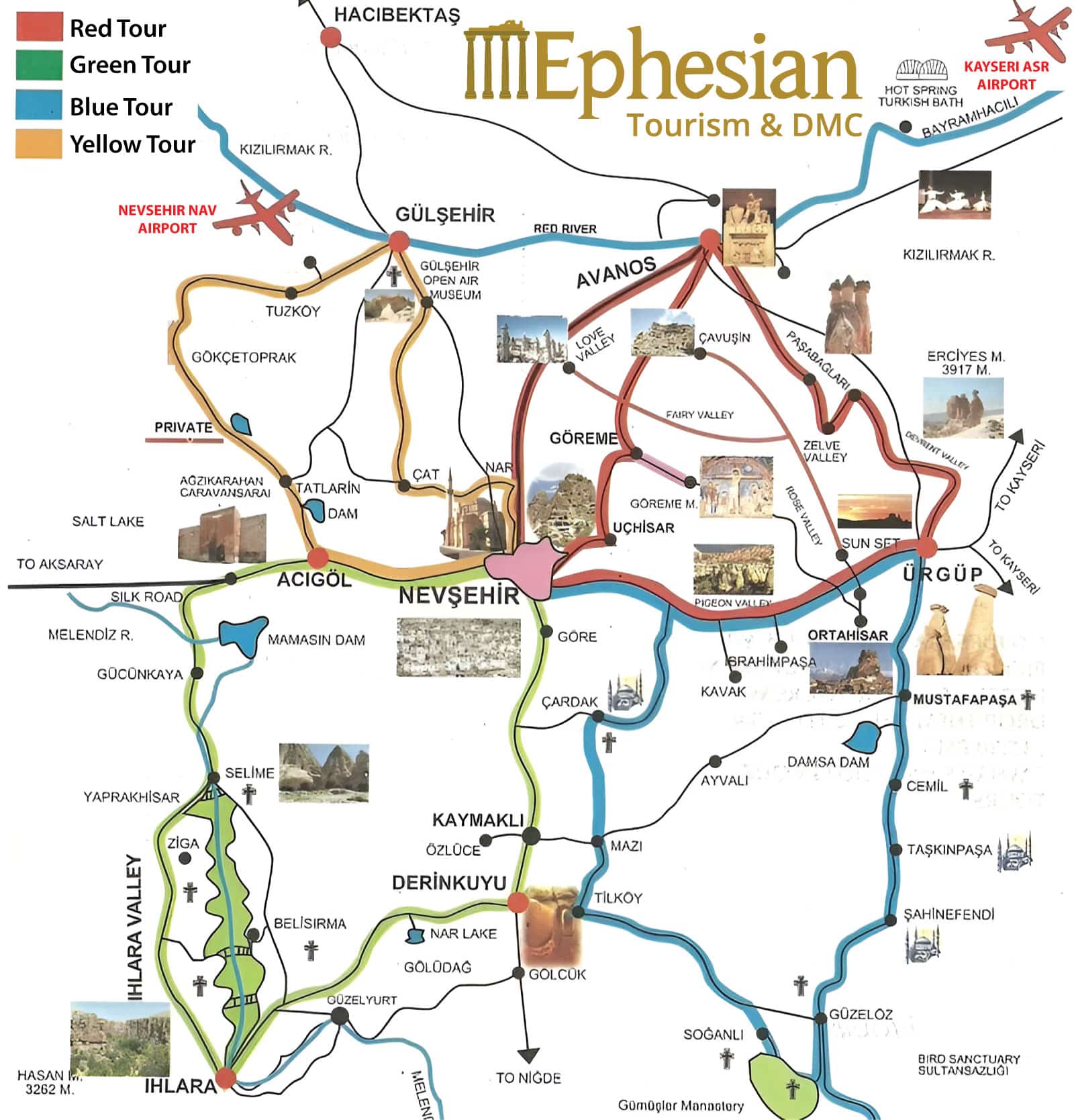 Before you visit Cappadocia, it's a good idea to print or download a region map. This will help you navigate and plan your itinerary more effectively. Many different maps are available, including detailed city maps, regional maps, and even maps that highlight popular tourist destinations and outdoor activities. Having a map on hand will make it easier for you to find your way around and will help you make the most of your time in Cappadocia. You can easily find these maps online or at your hotel or tour agency. It's also useful to have a map with you when you're exploring the area, so you can better orient yourself and find the places you want to see.
Who lived in Cappadocia?
The history of Cappadocia dates back to the Hittite period (1600-1200 BC) and has been inhabited by various civilizations throughout history. The area was later conquered by the Persians and then by Alexander the Great. The region became a part of the Roman Empire in 17 AD and later became an early center of Christianity. Many of the cave dwellings and underground cities were built during the Byzantine period as hiding places for early Christians. During the Ottoman period, the area continued to be a center for culture and arts. Today, Cappadocia is a popular tourist destination known for its unique geological features, historical sites, and traditional local culture.
What is the best month to travel to Cappadocia?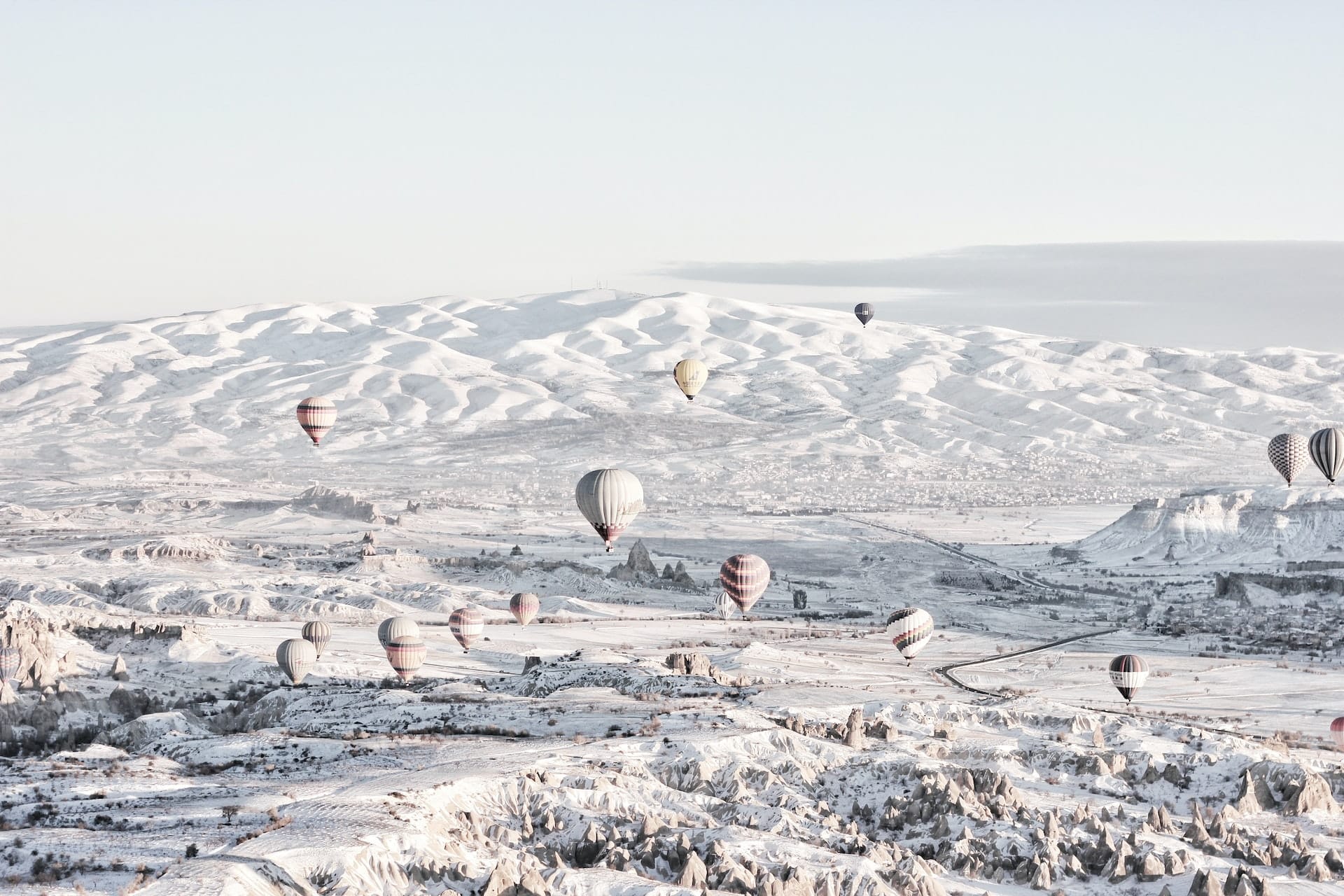 The best time to visit Cappadocia depends on what you're looking to experience during your trip.
Spring (April – June) is a great time to visit as the weather is mild, and the region is covered with colorful flowers and blooming trees. This is also the best time for hot air balloon rides as the visibility is good and the air is calm.
Summer (July – September) is peak tourist season, and the weather is hot, but it's also a great time to explore the region's many outdoor activities, such as hiking and horseback riding.
Fall (October – November) is another great time to visit, as the weather is mild and the region's landscapes are transformed into a beautiful array of colors. This is also a good time to take part in the grape harvest and enjoy the local wines.
Winter (December – March) is the low season, the weather can be cold and wet, but it's also a great time to enjoy the region's snow view.
The best time to visit Cappadocia is between April and October, when the weather is mild and comfortable for exploring the outdoors. However, it's also worth considering the crowds and prices, which tend to be higher during peak tourist season.
How to pronounce Cappadocia?
Cappadocia is a name of a region in central Turkey; it is pronounced: "kap-puh-DOH-shuh". The emphasis is on the first syllable, "kap," the second syllable, "puh" and the last syllable, "DOH-shuh".Cappadocia can be a bit tricky to pronounce for non-native speakers because it has a combination of two different languages. The name originates from a combination of Greek and Persian; it's an anglicized version of the original name "Katpatuka" which is a combination of two Persian words, "Kat" meaning "place" and "patuka" meaning "excellent". So, it's important to listen to locals or refer to an audio guide to ensure you have the correct pronunciation.
What are the best things to see and do in Cappadocia?
Cappadocia offers a wide range of activities for visitors to enjoy, from hot air balloon rides to underground cities, quad bike safari, and hiking in the valleys. Some must-see activities include taking a hot air balloon ride for a breathtaking view of the region, visiting the Göreme Open Air Museum and other open-air museums for a glimpse into the region's history, exploring the underground cities of Derinkuyu and Kaymaklı, hiking in the Rose Valley, Love Valley, and Red Valley for stunning views, and visiting the local handicrafts and pottery workshops to see the artisans at work and purchase their products.
How many days should I spend in Cappadocia?
Generally, at least 2-3 days is recommended to see the main sights and do the most popular activities. This would allow you to take a hot air balloon ride, visit the open-air museums, explore the underground cities, and hike in one of the valleys. If you have more time and want to explore the region more in-depth, 4-5 days would be ideal. This would give you more time to see the sights, take hikes, visit local workshops, and attend cultural activities such as whirling dervish shows. If you are also interested in outdoor activities such as Jeep Safaris and ATV tours, you should plan accordingly.
What is the nearest airport to Cappadocia?
The nearest airport to Cappadocia is the Nevşehir Kapadokya Airport (NAV), which is located just 45 minutes away from the city center of Nevşehir. This airport connects Cappadocia with several major cities across Turkey, including Istanbul, Ankara, and Izmir, as well as some international destinations like Moscow and some European cities.
Another airport that is relatively close to Cappadocia is the Kayseri Erkilet International Airport (ASR), located about 1 hour and 15 minutes from the city center of Nevşehir. This airport is well connected with several major Turkish cities and some European cities such as Frankfurt, Dusseldorf, and Vienna. You can take a shuttle bus, a private transfer, or a rental car from either airport to reach your hotel or guest house in Cappadocia.
What is the airport code of Cappadocia Airport?
Cappadocia does not have its own airport. The nearest airports to Cappadocia are Nevşehir Kapadokya Airport (NAV) and Kayseri Erkilet International Airport (ASR). These are the codes for these airports; there is no airport with the name "Cappadocia Airport". It's important to note that the airport codes are used to identify the airports and are used in flight schedules, booking systems, and other aviation-related contexts. Make sure to double-check the airport code and the location of the airport before making any flight reservation.
Cappadocia is a must-visit destination for any traveler. With its unique geological formations, stunning landscapes, and rich cultural history, this region of Turkey offers something for everyone. From hot air balloon rides over the fairy chimneys to exploring underground cities to experience the traditional local culture, Cappadocia will surely leave a lasting impression. Don't miss out on the chance to explore this one-of-a-kind destination.
You might be interested to read Cappadocia Hot Air Balloon Ride: 11 things you should know before riding it. Is it operating every morning? before planning your hot air balloon ride in Cappadocia.