Selcuk is the small, quiet town in Izmir province that serves as the gateway to Ephesus Ancient City, House of Virgin Mary, the Basilica of St. John, and the Temple of Artemis (Diana) making it ideal for an overnight stay. Let's learn about transportation options from Kusadasi to Selcuk
How far is Kusadasi to Selcuk?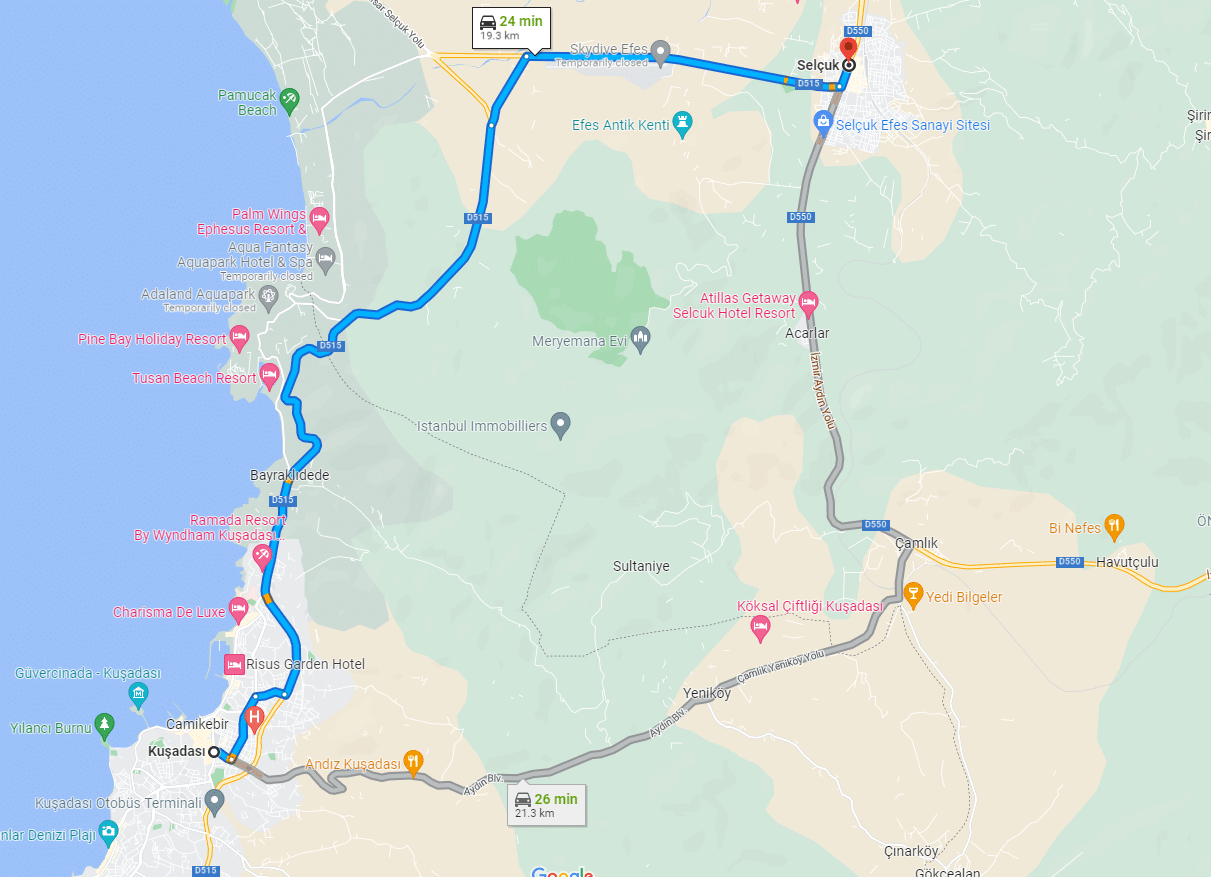 The distance between Selcuk and Kusadasi is approximately 20 kilometers (12 miles), and it takes around 25 minutes by car to get city center.
How to get Selcuk from Kusadasi?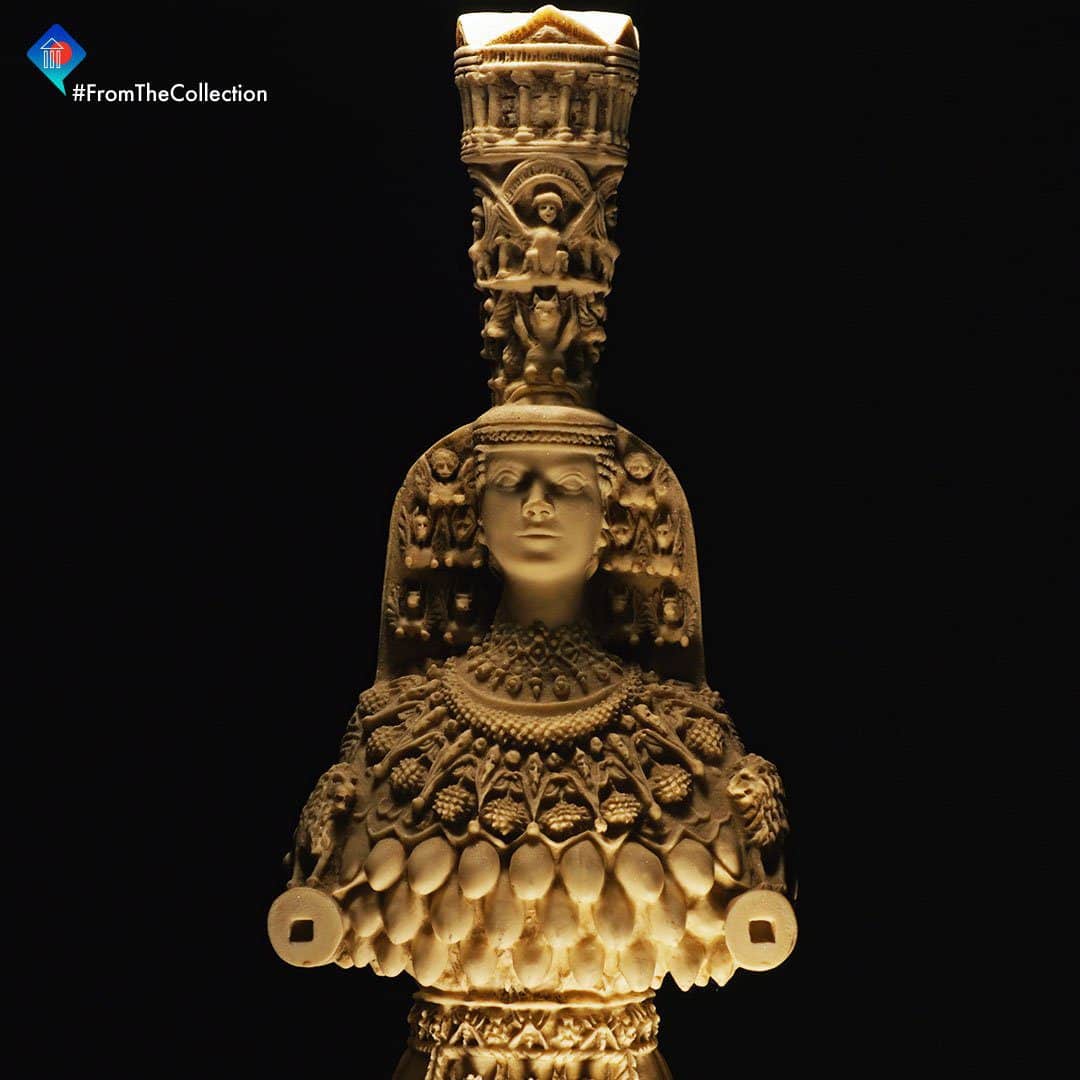 If you are in Kusadasi and want to go to Selcuk, you have two main options for getting there: public transportation by minibusses (Called Dolmus in Turkish) and private transportation by a yellow taxi.
Public Transportation to Selcuk from Kusadasi: Dolmus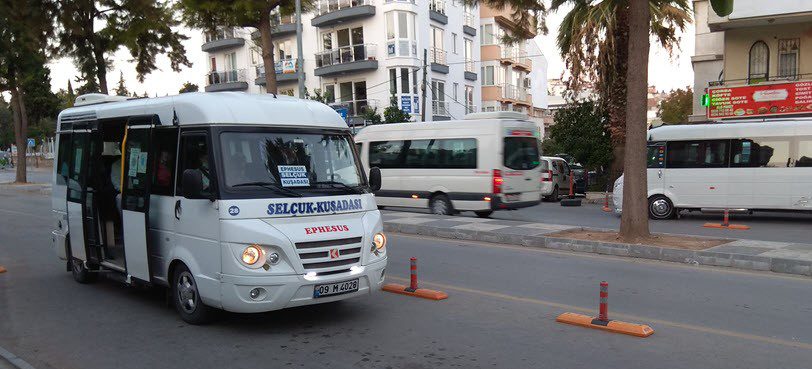 Firstly, there is public transportation to Selcuk from Kusadasi. You can reach Selcuk by minibusses from Kusadasi Town Centre Selcuk Minibus Stop located in Candan Tarhan Bulvari (Kusadasi – Selcuk Minibus Stop Location). Selcuk is 15 km away from Kusadasi town center and can be reached in 20 minutes by minibus.
Kusadasi – Selcuk Minibus Timetable
Season
First Minibus from Kusadasi
Last Minibus from Kusadasi
Frequency
Summer
01 April – 31 September
07:00
00:00
Every 15 minutes
Winter
1 October – 31 March
07:00
21:00
Every 20 minutes
Kusadasi-Selcuk Minibus Timetable
How to go to Selcuk Town Centre from Kusadasi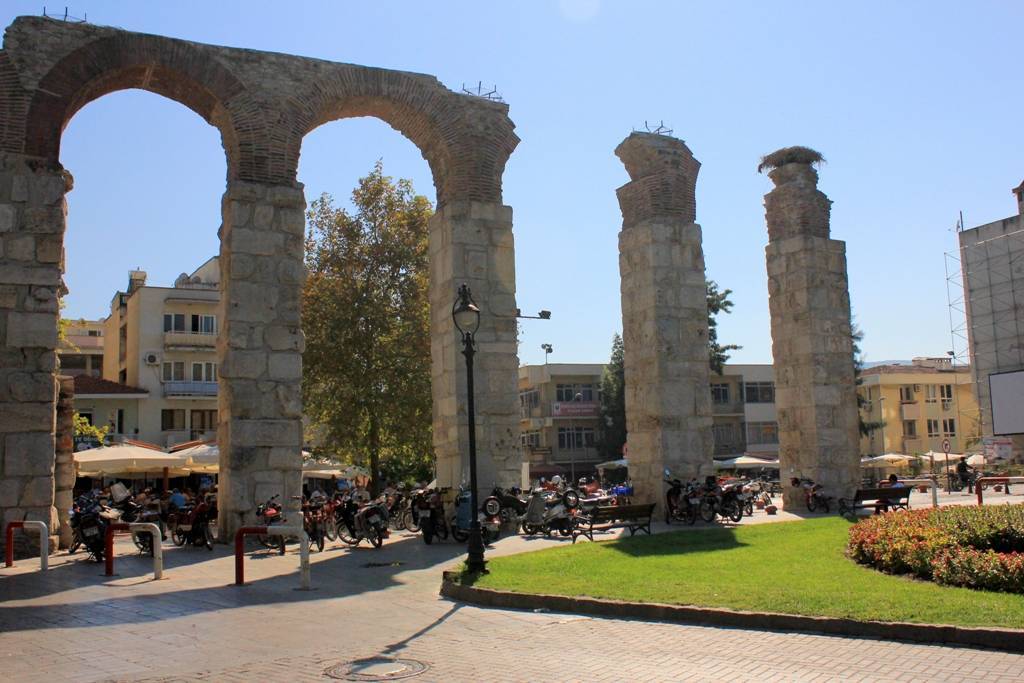 When you arrive at the minibus stop, you will use one of the white minibusses with Selcuk – Kusadasi written on it, pay the participant 35 Turkish Lira (2023), and wait for your bus to arrive/fill up. The bus ride takes less than 20 minutes. You will know you have a stop as the bus driver has to shout "Selcuk Otogar". Also, the last stop will be Selcuk Bus Terminal, located in the town centre.
How to go to Ephesus Ancient City from Kusadasi
You can check our guide Ephesus Ancient City: How to get from Kusadasi?
Return to Kusadasi
However, are you looking for Transportation from Selcuk to Kusadasi? Then, you can check Kusadasi: How to get from Selcuk?
Kusadasi – Selcuk Dolmus: Hotel's Stops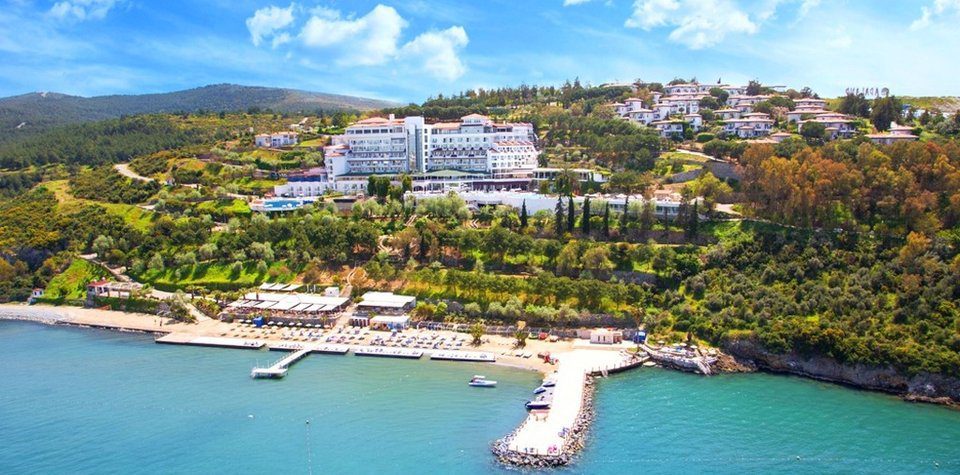 However, if you want to reach a hotel from Selcuk, the same minibus stops at the hotels below. On the other hand, you may want to stay in one of the hotels below and go to the center of Kusadasi.
Adaland Aquapark & Dolphin Park
Alkoclar Adakule Hotel
Aqua Fantasy Aquapark & Hotel
Hedef Bey Hotel Resort & Spa
Korumar Ephesus Beach & Spa Resort
Kustur Holiday Club
Labranda Ephesus Princess
Palm Wings Ephesus Beach Resort
Pigale Family Club
Pine bay Holiday Resort
Ramada Resort
Richmond Ephesus Resort
Tusan Beach Resort
Private Transportation to Selcuk from Kusadasi: Taxi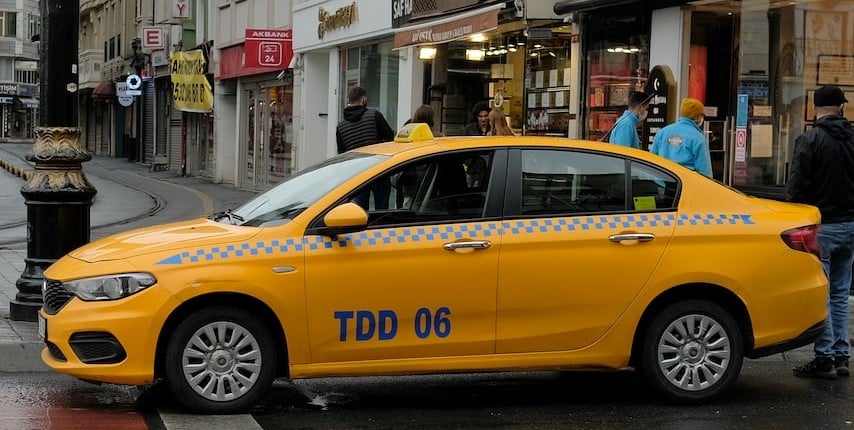 Secondly, there is also a private transportation option. You can also reach Selcuk Town Centre or Ephesus Ancient City from Kusadasi by any yellow taxi cab stands on the road. The town is 15 km from Kusadasi town center and can be reached in 20 minutes by taxi. Before you take a taxi, you can talk to the driver and agree on the cost of transportation. (In addition, the cost is approximately 100-120€ in 2023)
You might be interested to read Selcuk Attractions – 12 things to do – Selcuk Travel Guide before you visit the town.