Ephesus is a renowned destination that attracts around two million visitors annually due to its reputation as one of the world's most well-preserved ancient cities. It boasts significant historical ruins and is conveniently located near sacred sites like the Seven Sleepers and the House of the Virgin Mary, with the latter being of particular interest. To learn how to reach the Ancient City of Ephesus from Kusadasi, keep reading.
How far is Kusadasi to Ephesus Ancient City?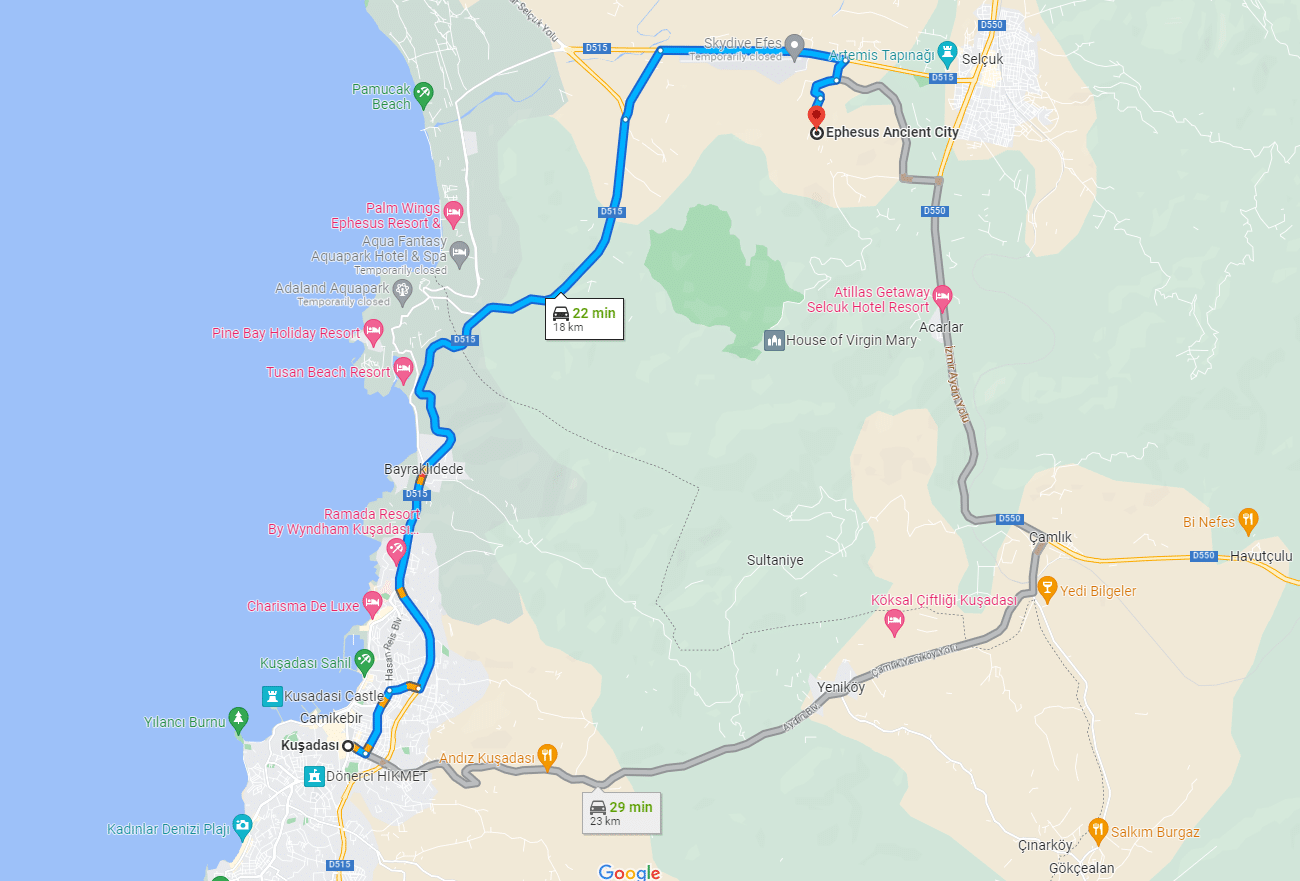 Ephesus Ancient City is 18 kilometers from Kusadasi, and it takes around 22 minutes by car. The closest airport is Izmir Adnan Menderes Airport. The nearest train station is in Selcuk.
How to get Ephesus from Kusadasi?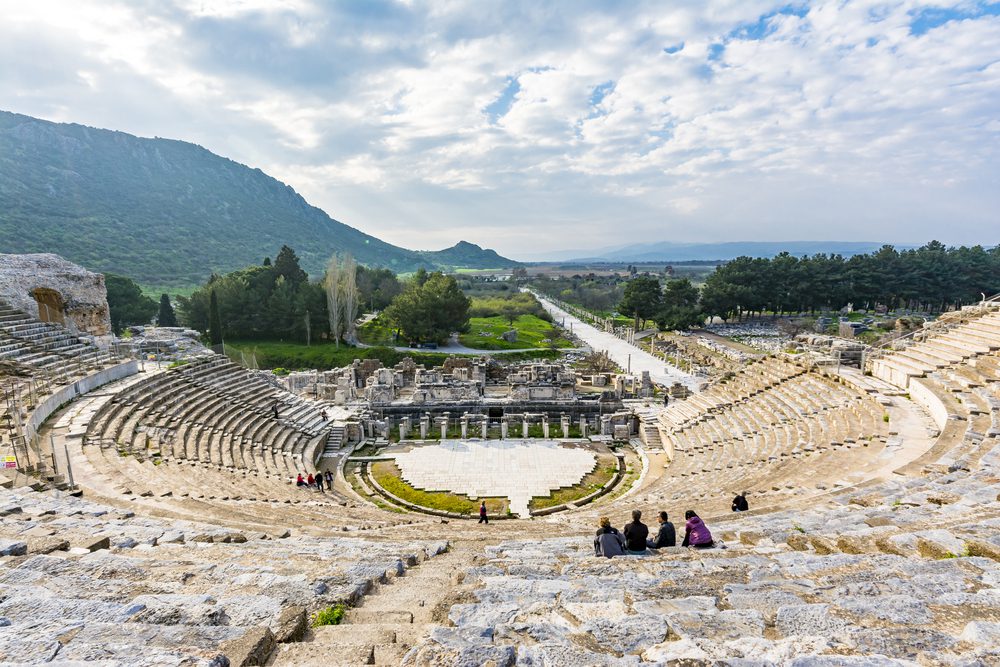 There are 3 ways to get to the Ancient City of Ephesus from Kusadasi: by public transportation using a minibus, by private transportation using a yellow taxi, or by joining a tour. A Dolmus is a convenient and cost-effective way to get around the region.
Public Transportation to Ephesus Ancient City from Kusadasi: Dolmus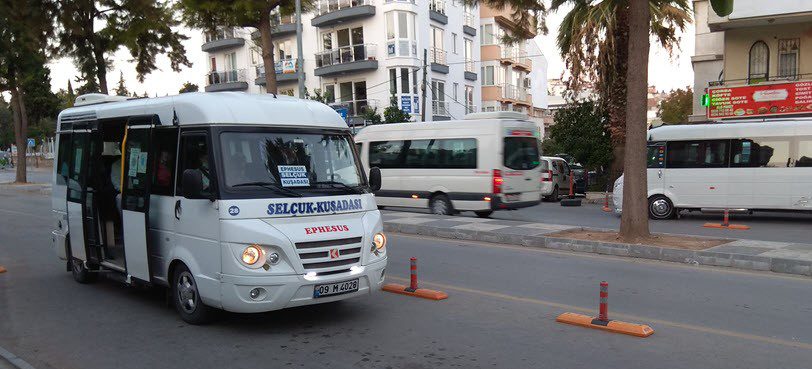 Firstly, there is public transportation to Ephesus Ancient City from Kusadasi by Kusadasi-Selcuk Minibuses. You can reach the ancient city by minibusses from Kusadasi Town Centre Selcuk Minibus Stop located in Candan Tarhan Bulvari (Kusadasi – Selcuk Minibus Stop Location). The minibus ride takes about 30 minutes from Kusadasi City Centre to Ephesus Ancient City. Minibus ride cost is 35 TL and US $ 1.5 in 2023.
Kusadasi – Selcuk Ephesus Minibus Timetable
Season
First Minibus from Kusadasi
Last Minibus from Kusadasi
Frequency
Summer
01 April – 31 September
07:00
00:00
Every 15 minutes
Winter
1 October – 31 March
07:00
21:00
Every 20 minutes
Kusadasi-Selcuk Ephesus Minibus Timetable
Ephesus Ancient City Dolmus Stop

You will know you have a stop as the bus driver has to shout "EFES" (which means Ephesus in Turkish).
PS: After the Ephesus Ancient City Minibus Stop, you must walk around 1 km to reach Ephesus Ancient City, Lower Gates. (Otherwise, there is a cab stand, and you can use a taxi from the stop to both gates.
Kusadasi – Ephesus Dolmus: Hotel's Stops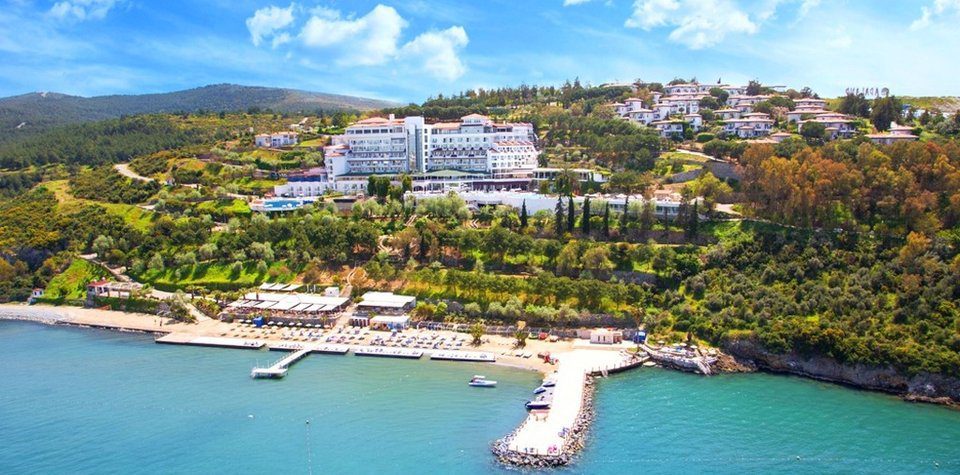 However, if you want to reach Ephesus Ancient City from a hotel in Kusadasi, the same minibusses stop at the hotels below. On the other hand, you may want to return to your hotel from the ancient city.
Adaland Aquapark & Dolphin Park
Alkoclar Adakule Hotel
Aqua Fantasy Aquapark & Hotel
Hedef Bey Hotel Resort & Spa
Korumar Ephesus Beach & Spa Resort
Kustur Holiday Club
Labranda Ephesus Princess
Palm Wings Ephesus Beach Resort
Pigale Family Club
Pine bay Holiday Resort
Ramada Resort
Richmond Ephesus Resort
Tusan Beach Resort
Return from Ephesus to Kusadasi by dolmus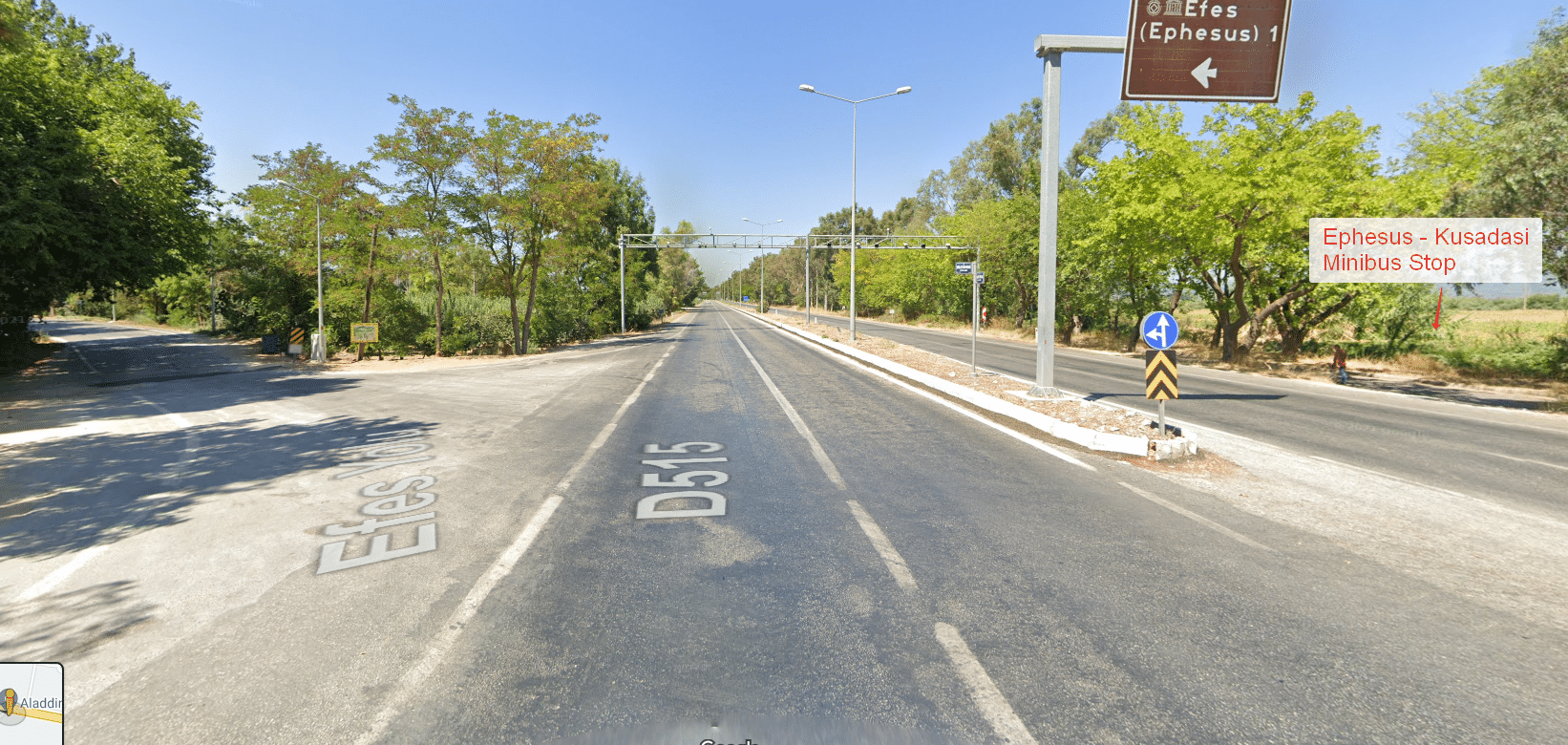 After you visit Ephesus Ancient City, you can get on the minibus from the stop in the direction of Selcuk-Kusadasi, just opposite the minibus stop where you reach Ephesus.
Private Transportation to Ephesus Ancient City from Kusadasi: Taxi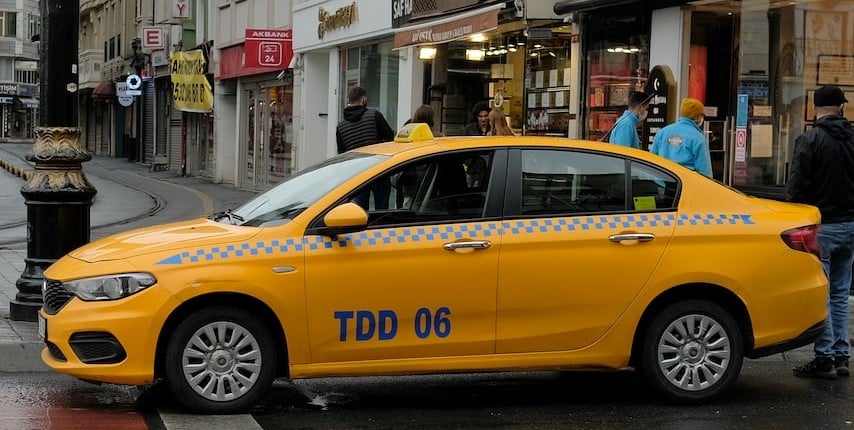 Secondly, private taxi is another means of transportation from Kusadasi to Ephesus. You can find yellow taxi cabs along the road to take you from Kusadasi to Ephesus Ancient City. The ancient city can be reached within 20-25 minutes by taxi. Prior to hiring a taxi, it is advisable to communicate with the driver and mutually agree on the cost of transportation. For your information, the current estimated cost for this service in 2023 is around 100-110€.
Visiting Ephesus Ancient City with a Tour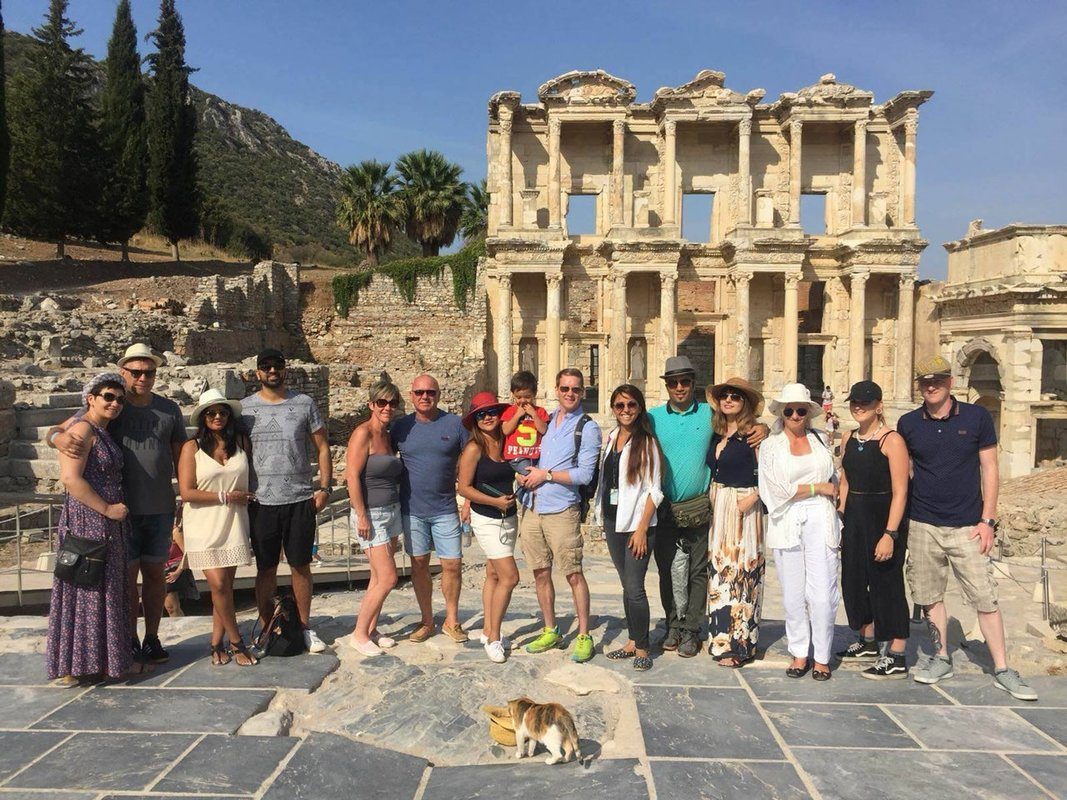 If you're planning a visit to the Ephesus Ancient City, opting for an Ephesus Tour is preferable to going on your own. These tours not only offer cost-effective options compared to one-way taxi fares, but they also provide a more comprehensive and hassle-free experience. With an Ephesus Tour, you'll have the chance to explore not only the Ephesus Ancient City but also the House of Virgin Mary and the Temple of Artemis (Diana) during an eight-hour excursion. This will save you time and energy that you would otherwise spend on individual visits to these sites, especially if you're on a tight schedule. Moreover, an experienced guide will be with you to offer insights and details about the places you're visiting, and the tour service will conveniently pick you up and drop you off at your hotel. Lastly, the tour package typically includes entrance fees to these sites, resulting in further savings. All things considered, taking an Ephesus Tour is the optimal way to maximize your visit, guaranteeing a pleasant and memorable experience.
Kusadasi Hotels & Cruise Port

Historical
–
Archeological
What is the cost of entry to Ephesus Ancient City?
The entrance fee for Ephesus is 700 Turkish Lira (TL) in 2023. And it is included in the "Museum Pass Turkey" or "Museum Pass Aegean."
Final Conclusions
Are you struggling to find the best transportation method from Kusadasi to Ephesus? Our team of travel experts is here to help. Drawing on years of experience in planning trips to Ephesus, we have thoroughly evaluated the advantages and disadvantages of each transportation mode. Regardless of whether you prioritize convenience, affordability, or speed, we can suggest the optimal option for you. Let us assist you in making an informed choice and alleviate the stress of arranging your transportation.
What is the easiest way to get Ephesus from Kusadasi?
The easiest way to get from Kusadasi to Ephesus is by taking a yellow taxi, hailing from the street. Safe and reliable, and the journey takes about 20-25 minutes. Negotiating the price with the driver before starting the journey is recommended.
What is the cheapest way to get Ephesus from Kusadasi?
The cheapest way to get from Kusadasi to Ephesus is by taking a minibus/dolmus found at Kusadasi City Centre, the fare is 20 Turkish Lira, and the journey takes around 30 minutes.
Remember to prepare A Comprehensive Guide to Ephesus Tour: Everything You Need to Know before planning your visit to Ephesus!
Are you coming from Kusadasi Cruise Port? Check our guide: How to go from Kusadasi Cruise Port to Ephesus? – Transportation Guide