Are you planning a trip to Turkey and looking for the most efficient and affordable way to travel between cities? Look no further than intercity bus travel! As the most popular mode of transportation in Turkey, intercity buses offer a comfortable and cost-effective way to explore the country. In this blog post, we will provide you with the ultimate guide to intercity bus travel in Turkey, including a brief overview of the importance of bus travel in Turkey's transportation system, and a detailed explanation of how to plan your journey, buy tickets, and make the most of your intercity bus travel experience.
Bus Transportation in Turkey
Bus transportation is critical in Turkey's overall transportation system, connecting cities, towns, and villages throughout the country. As the most popular mode of transportation in Turkey, buses offer several benefits, including affordability, comfort, and flexibility. Due to Turkey's vast geography and varied landscape, bus transportation has become an essential means of travel for locals and tourists alike. It provides a reliable and cost-effective way to reach destinations that are not easily accessible by other modes of transportation, such as trains or planes. Compared to driving, bus travel allows passengers to sit back, relax, and enjoy the journey without worrying about navigating unfamiliar roads or finding parking. Overall, bus transportation in Turkey is a vital part of the country's infrastructure, making it possible for people to travel and explore the beauty of Turkey economically.
Types of Buses Available in Turkey
If you're planning to travel by bus in Turkey, it's important to know the different types of buses available to ensure what you need. Turkey's bus transportation system is well-developed and offers various options for travelers, from intercity buses to in-city public transportation buses. Let's take a closer look at the different types of buses available in Turkey.
Intercity Buses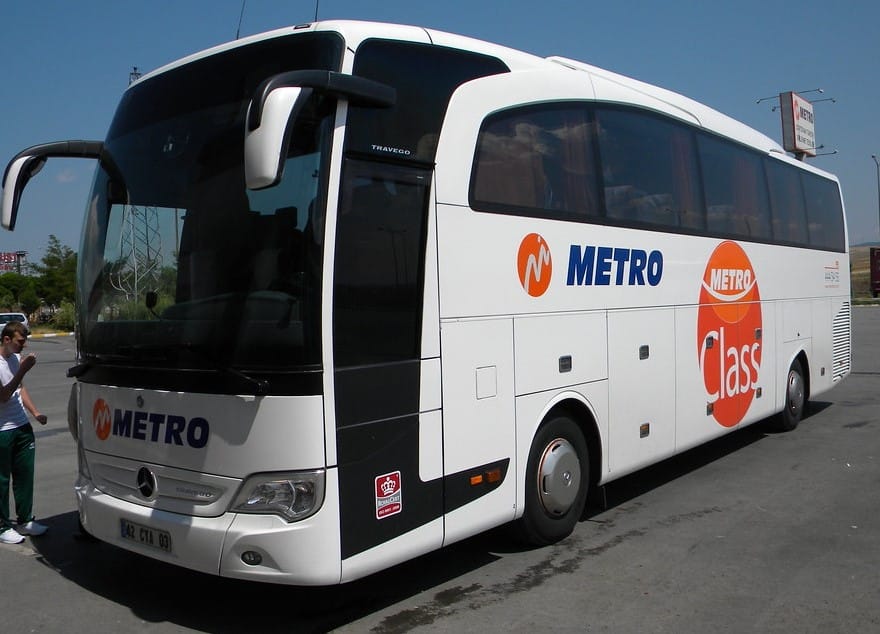 Intercity buses in Turkey are the most popular means of transportation for long-distance travel, connecting cities and towns across the country. Due to the limited railway network in Turkey, intercity bus travel has become the go-to choice for many travelers looking to explore the country. With well-developed highways of intercity bus routes, travelers can easily reach even the most remote destinations in Turkey.
Minibusses between Villages and Districts: Dolmuş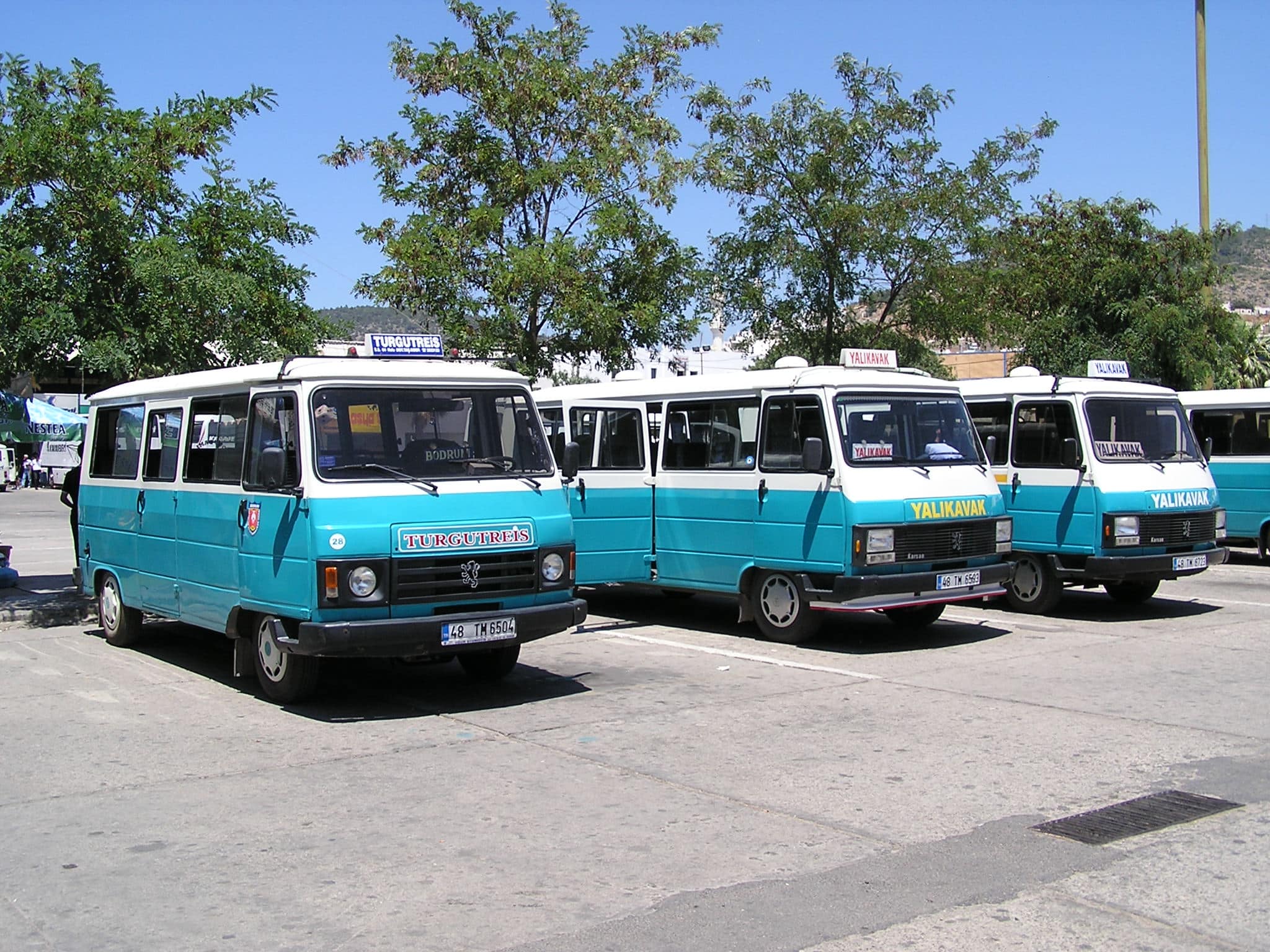 Minibusses between villages and districts, known as dolmuş in Turkey, are a popular mode of transportation in many country regions. These minibusses operate on set routes, picking up passengers along the way until they reach their destination. Dolmuş is an affordable and convenient way to travel short distances, particularly in rural areas where other forms of transportation are limited. They operate frequently and can often be flagged down from the side of the road, making them a popular choice for locals and tourists alike. However, due to the high demand for these minibusses, they can become overcrowded during peak travel times, and travelers may need to wait for the next one. Nevertheless, dolmuş is an integral part of the transportation system in Turkey, providing an essential service to rural communities and helping connect people across the country.
In City Public Transportation Bus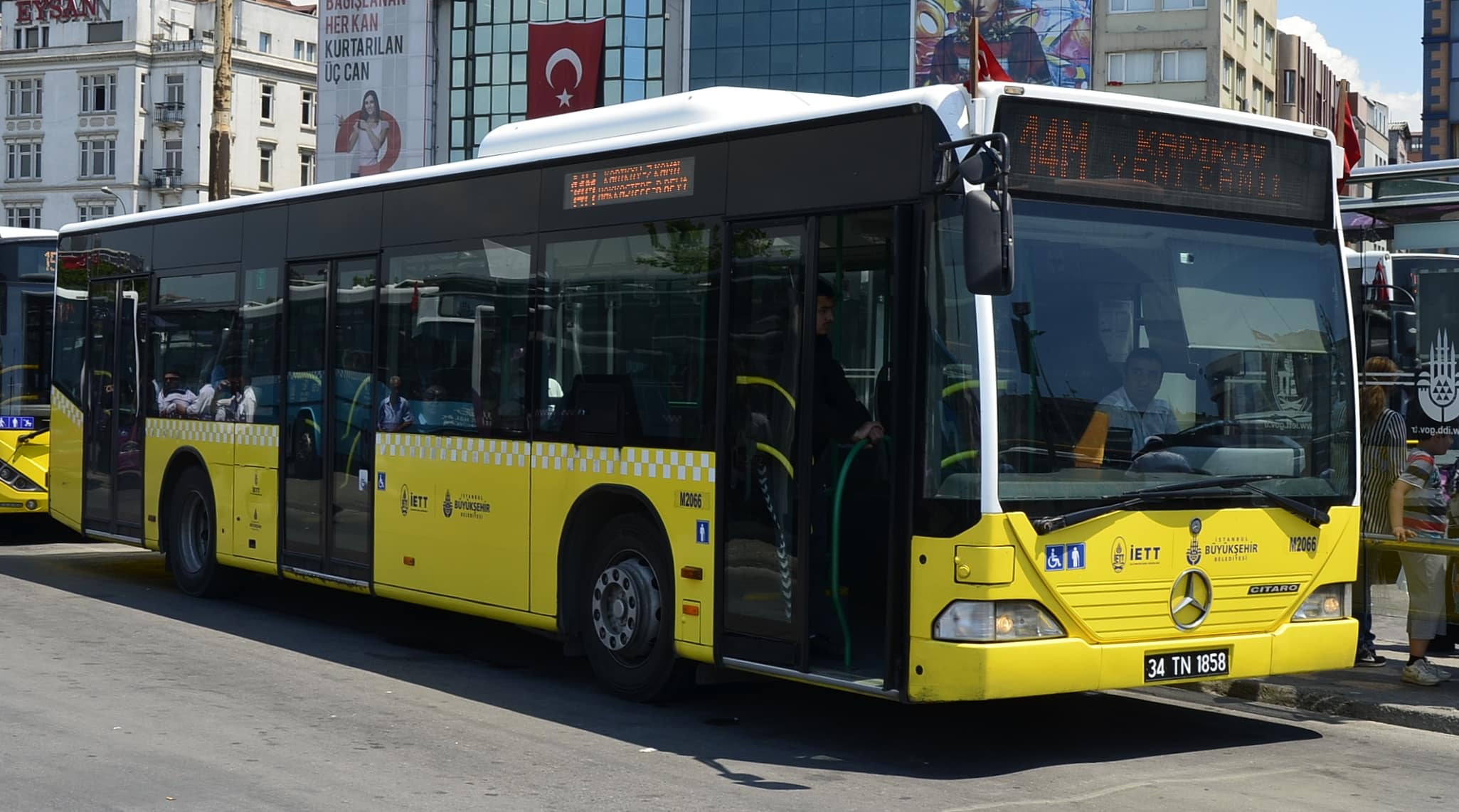 In-city public transportation buses are a common mode of transportation in Turkey's major cities, including Istanbul, Ankara, Izmir, Antalya, and more. These buses operate on set routes, making stops at designated bus stops along the way. In-city public transportation buses are affordable and efficient, making them popular for daily commuters and tourists alike. The buses are generally air-conditioned and have comfortable seating, and many are equipped with free Wi-Fi. Additionally, some cities have introduced environmentally-friendly buses that run on natural gas, helping to reduce pollution and improve air quality. While the bus systems in major cities can be confusing for first-time visitors, it's worth learning how to navigate them as they are often the most practical and cost-effective way to get around. Overall, in-city public transportation buses are an essential part of Turkey's transportation system, providing a reliable and affordable way for people to travel within the city.
Intercity Bus Companies in Turkey
Many intercity bus companies are operated by individuals, small cooperatives, and large conglomerates operating throughout the country or in a specific region. These companies offer various services, from standard economy class seats to luxury recliners, personal TVs, and other amenities.
Luxury Bus Companies
For those seeking a more luxurious travel experience, several luxury bus companies operate in Turkey. These companies offer premium amenities, such as half-reclining seats, personal entertainment systems, onboard snacks, and beverages. Turkey's most popular luxury bus companies include Kamil Koç (Flixbus), Varan Turizm, Pamukkale Turizm, Anadolu, Ulusoy, and Nilüfer Turizm. These companies operate on select routes and are generally more expensive than standard intercity buses but provide a high level of comfort and convenience for travelers.
Low-Cost Bus Companies
Low-cost bus companies, also known as budget or economy bus companies, are popular for those looking to travel within Turkey on a budget. These companies offer basic services at affordable prices, such as standard seating and limited amenities. Some of Turkey's most well-known low-cost bus companies include Metro Turizm, Truva, Lider, and Huzur. In addition, apart from the companies we have mentioned, approximately 3,500 companies are operating on certain routes with smaller fleets. While these companies may not offer the same level of comfort as luxury bus companies, they provide a convenient and economical way to travel within the country. If you're looking for a budget-friendly way to travel within Turkey, low-cost bus companies are a great choice.
How to check bus routes in Turkey?
The easiest option is to use a bus ticket booking website, such as Obilet (English) or Biletall, which allows you to search for bus routes and distances, and compare prices from multiple companies. You can also find information about bus routes and schedules at bus stations throughout Turkey.
What should I pay attention to when planning a bus trip in Turkey?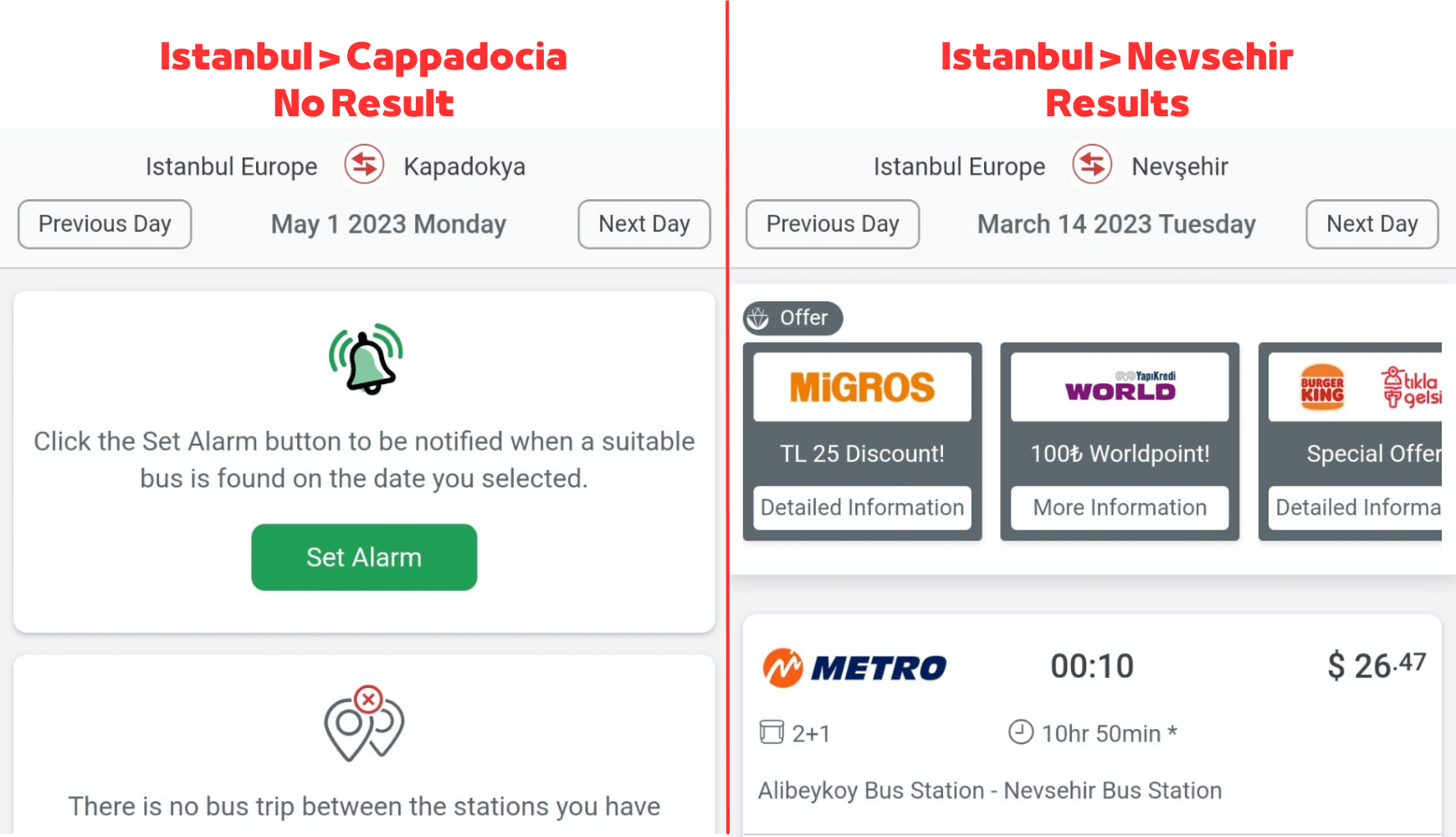 The official names of cities in Turkey may be different than as knowns by tourists. For example, Cappadocia is the general name of the region covered by Göreme, Ürgüp, and Avanos districts in Nevşehir province. Therefore, it is important to search for these districts when searching for a route.
How much does a bus ticket cost in Turkey?
Typically, a bus ticket for a 6-hour journey can cost around 300 Turkish Liras, while a 12-hour journey can cost around 500 Turkish Liras (2023). However, these are approximate costs and may not be accurate for all routes or all times of the year. It is best to check online for the most up-to-date and accurate information on bus ticket prices in Turkey.
How to buy a bus ticket in Turkey?
To buy a bus ticket in Turkey, there are two main options: online and offline. You can purchase a bus ticket online through the official websites of bus companies or bus ticket search engines. Alternatively, you can buy bus tickets at bus terminals in Turkey. During busy travel periods, buying your bus ticket a few weeks ago in advance is advisable to guarantee availability, especially for popular routes.
Online Booking

Many bus companies in Turkey offer online booking services on their websites, but you can easily search all in one place with Obilet's English website since it's a bus ticket search engine. You can search for the desired route, select the date and time, and pay for the ticket online using a credit card. You will then receive a confirmation email with your ticket details, which you can either print out or show on your mobile device when boarding the bus.
Offline Booking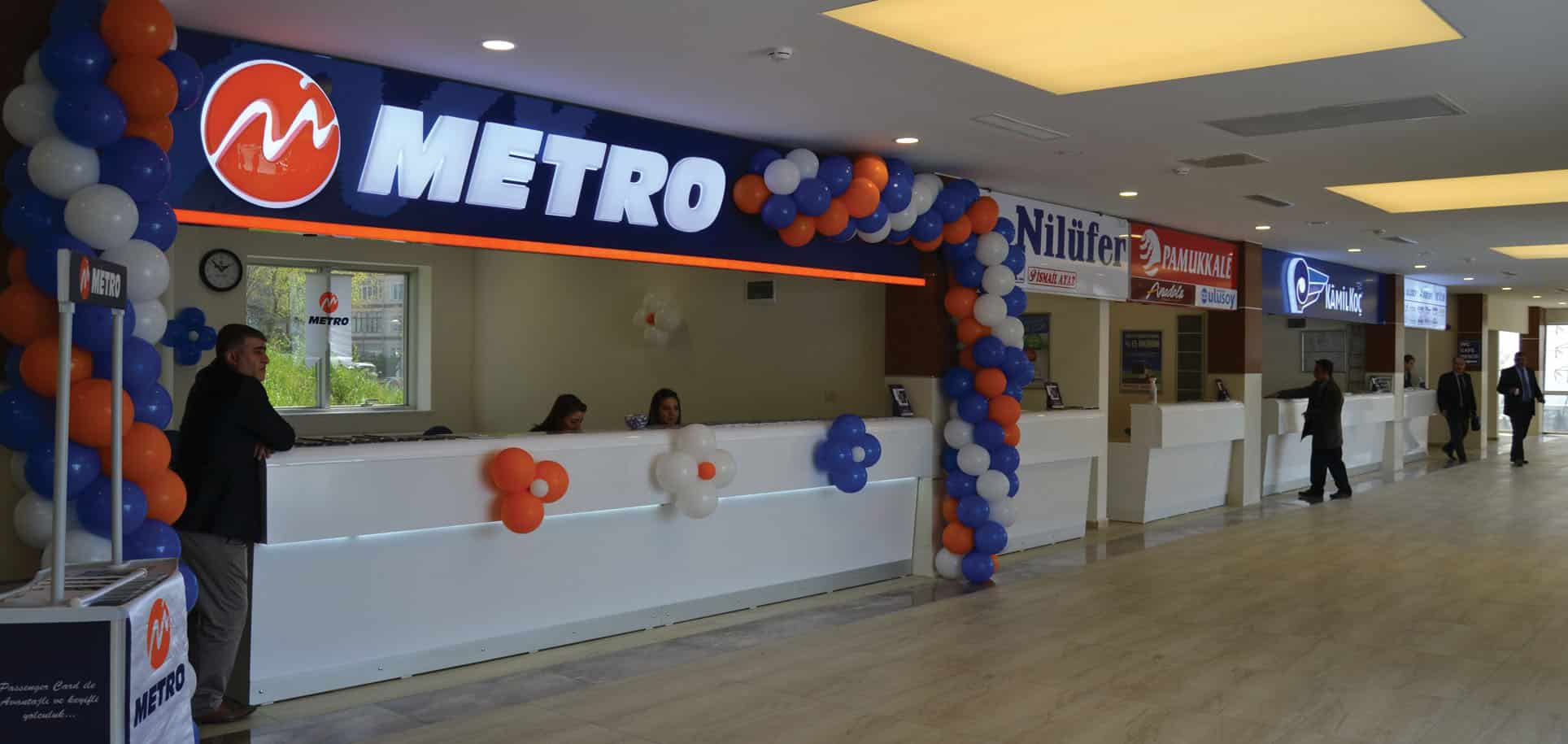 You can also purchase bus tickets at bus terminals or bus stations in Turkey. Most major cities have bus terminals that serve various destinations within Turkey. You can go to the bus terminal, find the ticket booth or counter for your desired bus company, and purchase your ticket in person. Payment can be made in cash or by credit card, depending on the bus company.
How to avoid getting scammed when buying bus tickets in terminals?
Bus ticket offices in the terminal may charge more than the ticket's value or sell tickets to another destination instead of your destination to sell tickets. That's why buying tickets online is a good solution.
Amenities available on Turkish Buses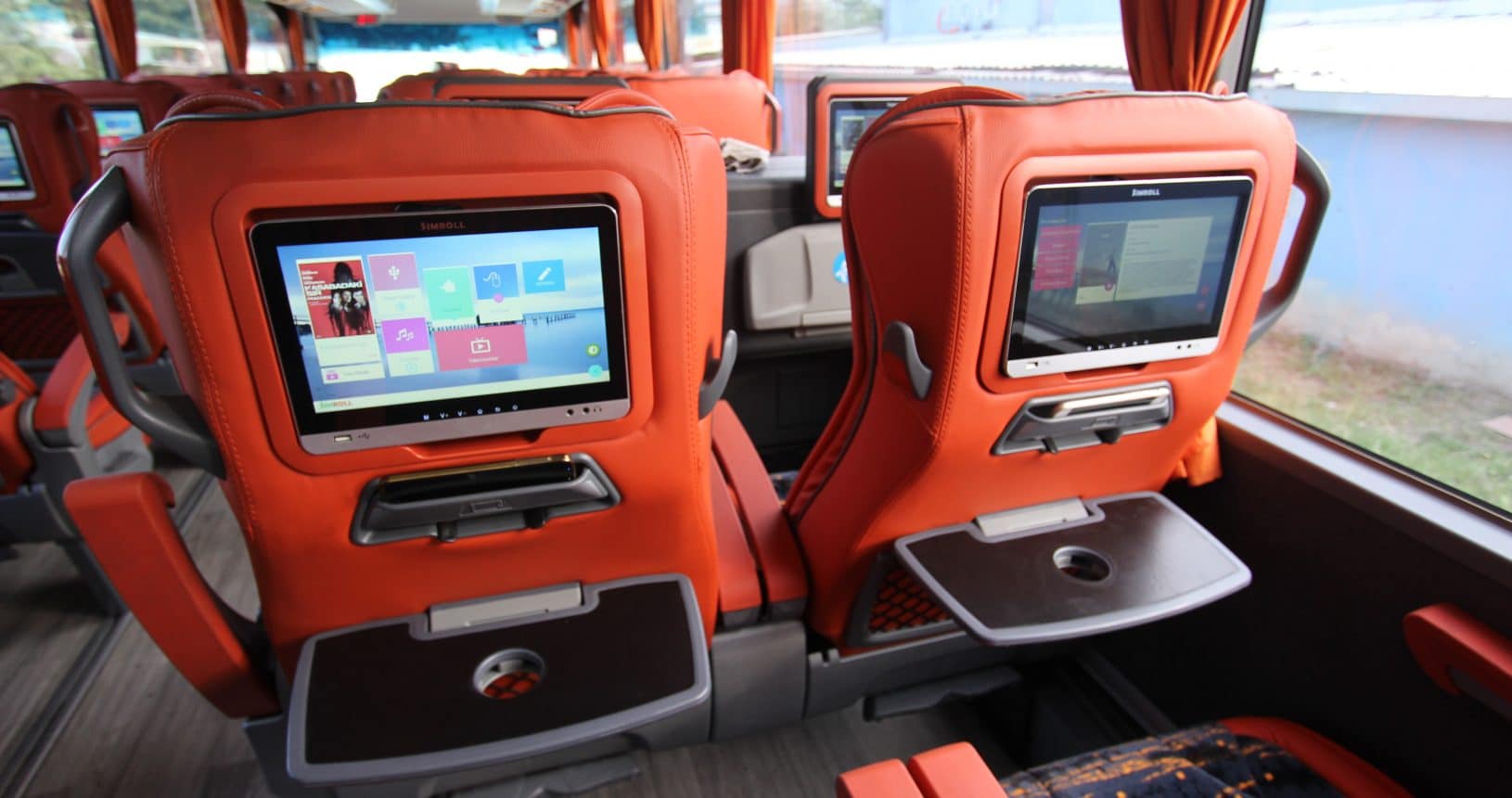 Turkish buses generally offer a range of amenities to make your journey more comfortable. The amenities available can vary depending on the bus company and the type of bus, but here are some common amenities that you may find on Turkish buses:
Air conditioning and heating: Most buses in Turkey have air conditioning and heating systems to regulate the temperature inside the bus.
Reclining seats: Many buses have seats that recline to varying degrees, allowing passengers to adjust their seating position and rest more comfortably.
TV screens and entertainment: Some buses have TVs installed in the seats or in the aisle, which may show movies, TV shows, or music videos to keep passengers entertained during the journey.
Refreshments and snacks: Some bus companies offer complimentary drinks and snacks on board, while others may have a cafe or snack bar at the bus terminal.
Wi-Fi: Many buses now offer free Wi-Fi on board, allowing passengers to stay connected and work or browse the internet during the journey.
Not all buses in Turkey offer the same amenities, so it's best to check with the specific bus company or travel agency for more information on the amenities available on your chosen route.
Do Turkish buses have toilets?
Onboard toilets are not commonly available on Turkish buses. Therefore, it's recommended to utilize the restroom facilities at the bus terminal before boarding and during the rest stops that occur approximately every 2 to 2-1/2 hours during the journey.
Do buses in Turkey have phone chargers?
Many buses are equipped with personal multimedia centers with TV, movies, music, and USB to charge phones or other gadgets mounted in the back of the seats in front.
What to pack for a comfortable bus journey in Turkey?
If you're planning to take a bus journey in Turkey, there are a few essential items you can pack to ensure a comfortable experience:
Comfortable clothing: Wear loose-fitting, comfortable clothing that allows for ease of movement and won't restrict your circulation during long periods of sitting.
Snacks and water: Pack some light snacks and a refillable water bottle to keep you hydrated and nourished during the journey. It's important to stay hydrated, especially during warmer months.
Entertainment: Bring a book, magazine, or portable music player to keep you entertained during the journey, especially if the bus doesn't have onboard entertainment.
Warm layer: Even if the bus has air conditioning or heating, it's a good idea to pack a light sweater or jacket in case the temperature drops or you feel chilly.
Neck pillow: A neck pillow can help you sleep more comfortably during the journey, especially for longer trips.
Eye mask and earplugs: An eye mask and earplugs can help you block out any light or noise and get some rest during the journey.
Personal hygiene items: Pack basic hygiene items such as hand sanitizer, tissues, and wet wipes to keep yourself fresh and clean.
By packing these essential items, you can ensure a more comfortable and enjoyable bus journey in Turkey.
Delays in Turkish Buses
Since buses in Turkey travel between long routes, a 15-minute delay on average for a bus you will get on between these routes is a common situation. However, if the delay time exceeds 1 hour, you should contact the office of your ticket company at the bus terminal.
Are buses safe in Turkey?
Yes, buses in Turkey are generally considered safe for travel. Turkish bus companies prioritize safety and regularly maintain their buses to ensure they meet safety standards. Additionally, most buses have safety features such as seat belts, airbags, and anti-lock brakes. However, as with any mode of transportation, there is always some level of risk involved, so it's important to take basic safety precautions such as wearing a seatbelt, keeping an eye on your belongings, and following the safety instructions of the bus driver or attendants.
Overnight Bus Travel in Turkey
Overnight bus travel in Turkey is a common and convenient way to travel long distances. Especially for travelers with limited time or looking for budget-friendly solutions, an overnight bus is an ideal option as they will not pay an extra night's accommodation fee.
FAQs
How is the bus seating arrangement in Turkey?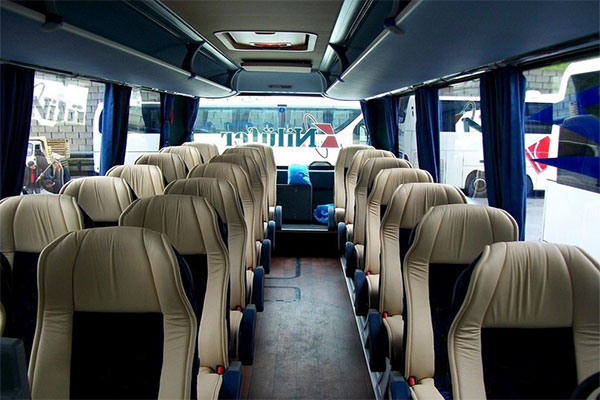 In intercity buses in Turkey, there are aisles in the middle and seats on the right and left. They can be called 2+1 or 2+2, depending on the number of seats in a row. If you are traveling alone or want to travel comfortably, you can choose a bus with a 2+1 seat arrangement and sit in a single row without someone next to you. Also, if you are a woman or man traveling alone, a person of the same gender will sit next to you in a double seat.
Can I take my pet on the bus?
If you have a pet cat, dog (except for dangerous breeds), or bird (such as goldfinches, budgies, or canaries) with vaccination certificates, they can travel with you on a bus as long as they are smaller than 23x30x40 cm and are in a locked cage. Your pet can travel in its cage on your lap, in front of the horse's seat, or in a side seat you purchase. If your pet does not meet the relevant conditions, it can still be transported in its own special cage under veterinary control, provided you sign a consent letter, and only in the baggage area. If these conditions are not met, our company reserves the right to refuse transportation for the safety of our other passengers and your pet's health.
You must carry your pet's health certificate and vaccination papers with you and present them to staff when asked. To ensure a comfortable journey for all passengers and pets, cats and dogs or cats and birds cannot be transported on the same bus. If necessary, your seat may be changed to separate dogs and birds as much as possible.
Bus or flight for intercity traveling in Turkey?
Although the bus is sometimes preferred because it is economical, if there is no plane route to the place you want to go, sometimes it can be a second option besides private transportation. In other words, choosing between alternative transportation vehicles will be the right solution by searching your destination routes.
Is it possible to travel out of Turkey by bus?
Many international bus routes are available, including to neighboring countries such as Greece, Bulgaria, Iran, Azerbaijan, and Georgia, as well as to more distant destinations such as Germany and the Netherlands. However, checking visa requirements and border crossing procedures for the specific country you wish to travel to is important.
How to rent a bus in Turkey?
While renting a bus in Turkey can be done directly with some bus companies, it is often easier and more convenient to do so through a travel agency. The travel agency can help you find a bus that meets your needs and budget and take care of all the necessary arrangements, including driver and insurance. You can search for travel agencies that offer bus rental services online.
Conclusion
In conclusion, intercity bus travel is a popular and affordable way to explore Turkey. With a wide network of bus routes connecting cities and towns across the country, travelers can easily reach their destinations comfortably and conveniently. From luxury buses with personal entertainment systems to standard buses with basic amenities, there are options to suit every budget and travel style. By following the tips and guidelines outlined in this guide, travelers can make the most of their intercity bus journey in Turkey and enjoy a hassle-free and memorable travel experience.
Are you planning a trip to Turkey? Do not forget to note Emergency Numbers in Turkey